Electronic Arts Inc. today revealed new details of the Medal of Honor Limited Edition that will be released in North America on October 12, 2010. The Limited Edition* features a host of weapons, powerful ammunition and camouflage. The weapons and camouflage give players a tactical gameplay advantage on day one. EA also announced today that people who own the Medal of Honor Limited Edition will receive an invitation to the beta** for another highly-anticipated EA shooter, Battlefield 3™. Battlefield 3 is the latest entry in the award-winning shooter franchise from DICE in Stockholm, Sweden.
This Sunday August 1, be sure to check out a 100% all-new Medal of Honor gameplay trailer directed by Linkin Park's Joe Hahn. The trailer will feature in-game footage set to the band's recently-announced single 'The Catalyst' at www.medalofhonor.com/linkinpark. More details about the Battlefield 3 beta itself can also be found at www.medalofhonor.com/battlefield3.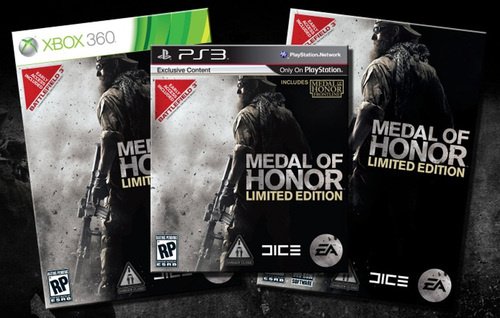 Medal of Honor Limited Edition also features special content out-of-the-box including the MP-7, a weapon utilized by real-world Tier 1 Operators in the field. With its light weight, high rate of fire as well as its ability to penetrate body armor, the MP-7 handles like a pistol yet allows targets to be engaged like a rifle. The Limited Edition also includes two powerful shotguns with custom slugs. These devastating shotguns and ammunition are ideal for close-range fights.
Update: The Limited Edition is available to anyone who pre-orders the game. If you pre-ordered the game prior to the announcement of the Limited Edition -- don't worry, you'll still get it!
* The PlayStation 3 version of the Limited Edition also includes the classic, Medal of Honor Frontline™ completely remastered in HD. **Restrictions and conditions apply to Beta offer. See http://www.ea.com/beta for details.