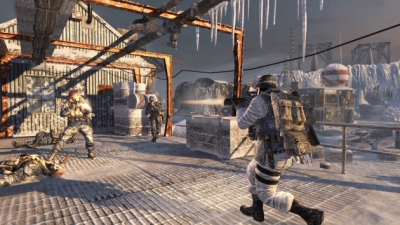 It wouldn't be a Call of Duty map pack without some new achievements, but fans hoping to finally get some gamerscore rewards for their 1337 sniping skills will be sorely disappointed. As with World at War, Black Ops' DLC achievements are strictly zombie-related.
Ultimately, no one really needs their arm bent to play the standard multiplayer, so these achievements will go a long way to motivating players to get some extra mileage out of the Zombies mode.
The eagle has landers (35)
In Ascension, escape on all 3 lunar landers.
They are going THROUGH! (35)
In Ascension, kill at least 5 zombies with 1 Gersh Device.
Space Race (45)
In Ascension, Pack-a-Punch a weapon by round 8.
Chimp on the barbie (35)
In Ascension, kill a space monkey with a fire trap.