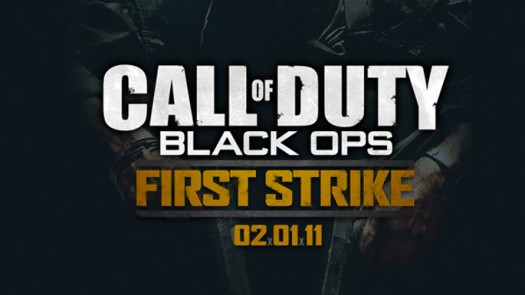 While Call of Duty: Black Ops didn't reign two years in a row as game of the year, that doesn't mean we love it any less. After all, you don't become one of the highest selling games of all time along with being the highest first day entertainment franchise in history if you aren't a damn good game. As previously announced, the first map pack titled "First Strike" will be coming first to the XBox 360 on February 1st before later being ported over to the PlayStation 3.
The "First Strike" Map Pack will include four traditional multiplayer maps as well as one additional Zombie mode map. While no information was given on the Zombie map other than its name Ascension, the trailer below gives a quick peek at the development behind and the layouts of the other four maps in this pack.
Kowloon takes place in a revamped layout of the Kowloon single player level. Having a very similar feel to the streets of Brazil from Call of Duty: Modern Warfare 2, Kowloon offers players their first and only opportunity to use a zip line to traverse through a level. This zip line looks like a quite risky venture as it will leave a player completely exposed and weaponless. The reward however is the ability to cross great distances of the map at tremendous speed.
Another unique map is Discovery. Taking place in an arctic research lab, Discovery shows what may be Call of Duty's first steps towards destructible environments. In Discovery there is a choke point over the chasm that divides the level in half where players must cross a bridge to reach their opponents. This bridge can be destroyed with proper explosives. Imagine what this could do for the game with Red Faction style level physics on top of the already intense Call of Duty multiplayer.
Berlin Wall also features a great design choice with the inclusion of a no man's land. In this area, players can quickly get across the map but this time there isn't much fear of other players. The reason for that is because this area is protected by autoturrets which are designed to take down anyone foolish enough to try to cross between East and West Berlin.
Stadium seems to be the most traditional of the maps. In it, players will be more focused on pure classic strategy using a level's design and tight corners as a way to ambush opponents.
Check out the video below for more details in First Strike for Call of Duty: Black Ops and make sure to check it out on XBox 360 when it hits on February 1st